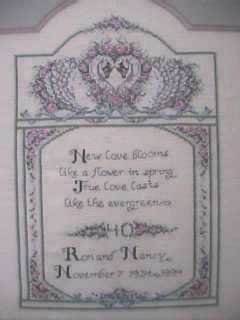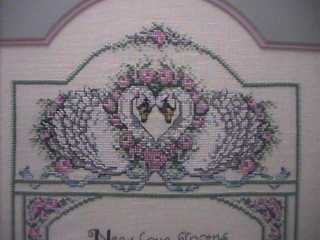 My second project was Teresa Wentzler's Carousel.  It took me 5 years to finish.  Part of it was stitched while I was on a trip to Russia!  I want to mount it in a shadowbox like frame with a music box playing "Carousel Waltz".  My digital camera just didn't pick it up well, so I scanned it into the computer.  That is why it is in 3 pieces!  I used a little Kreinik metallic thread to highlight some areas.  It does not show up on the scan.  I just LOVE this piece!!  I stitched it on 32 ct. Laguna Mushroom.

My First project, around 1990, was a little Precious Moments lamb on a cliff.  It may be in storage somewhere.  My next project was a little more difficult!

I stitched a Baby Sampler with a Teddy Bear and some alphabet blocks for some special friends.  Little David was born in 1993, I finished it about a year later!  No pic!

Then I stitched "When Love Blooms" from a Leisure Arts chart for my parents 40th Anniversary in 1994.  I actually got it done on time for the celebration too!

The next thing I fell in love with was this "Mizrach" designed by Barbara Ann Richter in Just Cross Stitch Nov/Dec 1994.  The colors are Peacock Blue and Corals.  This is the first project I did with beads.  They don't show up, but they are there!  Finished 2002.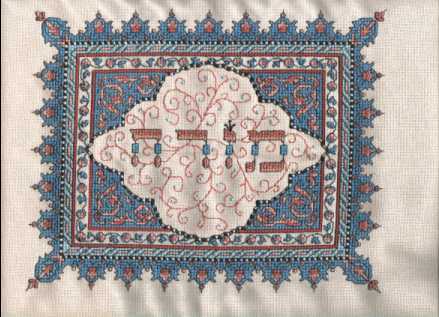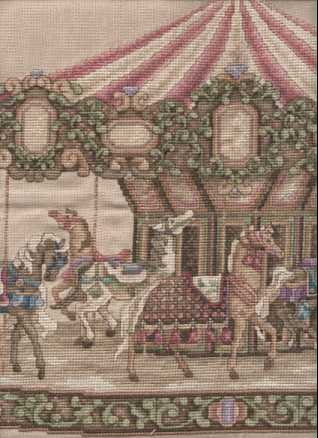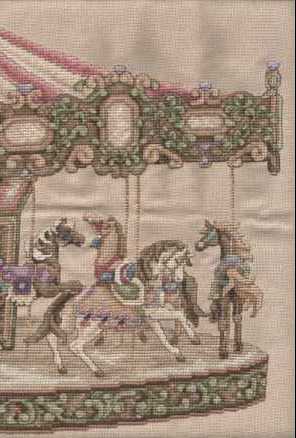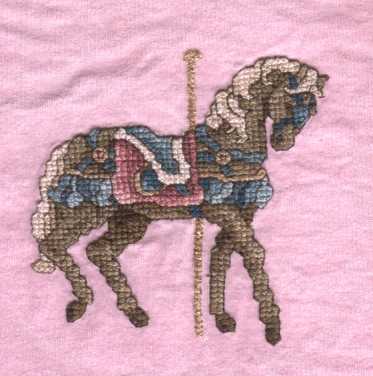 Next for a little fun, I stitched one of the horses from the carousel on a T-shirt that I had dyed pink.  I really like the outcome.  You can kinda see the Krienik gold metalics in the pole!  I will definately be doing more of this!